Withings (now owned by, and re-branded as, Nokia) Body Cardio smart scales – A comprehensive owner/user review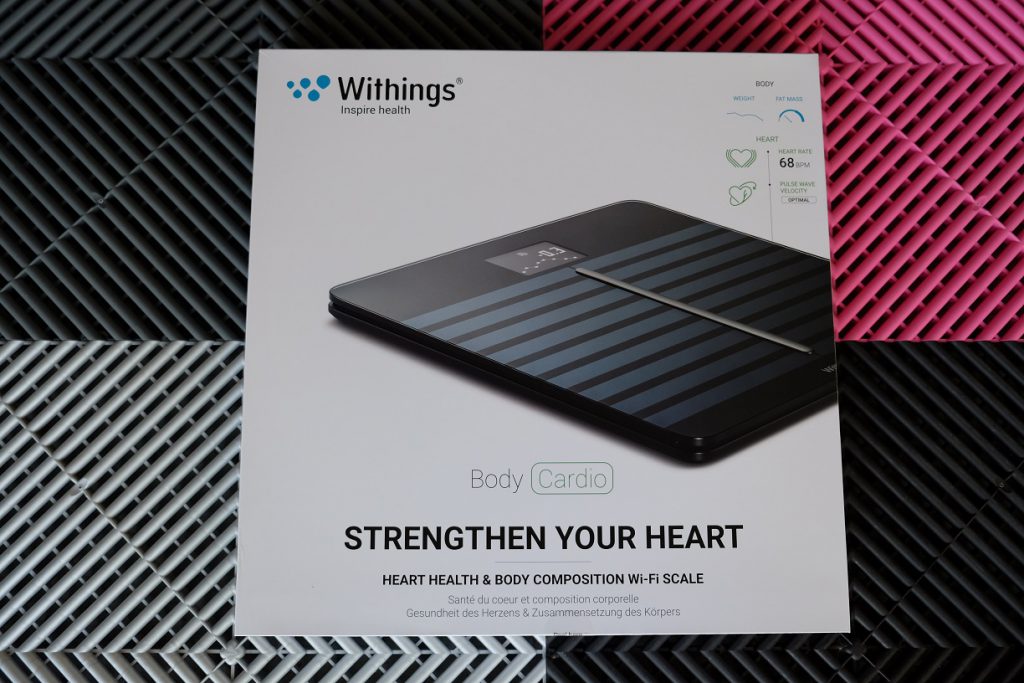 UPDATED 23rd Jan 2018: Nokia will remove the Pulse Wave Velocity reading effective immediately. Any reference to the Pulse Wave Velocity capability in this review is now invalid.
Here is the blurb from Nokia: We brought the Pulse Wave Velocity (PWV) feature to a home scale for the first time with Body Cardio. We are now learning its capabilities in the area of measurement of pulse wave velocity may require a different level of regulatory approval. In light of this, the decision was made to turn off the pulse wave velocity feature. This action does not affect the other features delivered by our most advanced scale – such as weight accuracy, body composition, and heart rate readings. 
When I began reading about 'smart scales', I got excited about the new capabilities being introduced: historical monitoring, reporting and graphing in software, automatic synchronisation over wifi, mobile support (Android and iOS in my case). I love gadgets, and I quickly bought the Garmin Index smart scales. I should have done my homework a bit more thoroughly. Although a beautifully finished product, the Garmin Index scales had some immediate shortcomings (at least in Jan 2017):
1. Only 1 weigh-in per user, per day is recorded. I was keen to not only weigh myself daily each morning, but also before and after substantial exercise efforts. I figured that would allow me to see how much water needed to be replaced. A close look at the Garmin forums revealed that many Garmin Index scale users have been asking for this ability since mid 2015. At the time of writing (Dec 2017), Garmin still limits the amount of weigh-ins to 1 per day. The most recent weigh-in for the day overwrites the previous amount. Ridiculous.
2. Limited integration options. You can link myFitnessPal to the Garmin Index scales. Wow. Is that it? Garmin want you to be captive within their ecosystem. No IFTTT integration etc.
3. Average Android smartphone software. I could nominate a target weight . . and see my daily weigh ins plotted on a graph. . . No average loss/gain line to smooth out spikes, no graphing for bmi or bone mass etc.
I took the Garmin Index scales back to Officeworks for a full refund of $199aud after 3 days of use. I saw great promise, but I hated the overall Garmin implementation. The 1 weigh-in per day was ultimately the critical flaw. Even if the limited integration and average Android smartphone app issues were not present, I would have still returned the scales!
So I went back to my trusty non-smart Tanita scales for a couple of weeks, and I began to read more smart scale reviews thoroughly.
Enter the Withings Body Cardio scales
I pre-installed the Withings app, and registed for an account prior to making a purchase decision. The app allows non-smart scale owners to enter their details, and 'kick the tyres' so to speak. The app is beautiful and crisp (and has been updated several times since early 2017, including a full re-branding to Nokia).
Several reviews placed the Withings Body cardio scales at the top of their 'Recommended Buy' list. There was a lot of buzz about the addition of 'pulse wave velocity' measurements (more to come on this general heart health measurement), and there was confirmation that you can take as many weight readings per person per day. Oh, and a completely different attitude to integration options, with over 100 partner apps at the time of writing. And did I mention the rechargable battery that "should" last for between 9 and 12 months? (p.s. it did) Oh and the solid aluminium base, and glass top.
"Add to cart" -> "Buy it now". Thanks Amazon. The price from Amazon, shipped to Australia was a touch cheaper than the price for the Garmin Index scales: $195aud. No local distributers in Australia for Withings. Oh well, the 2 week wait was worth it.
The packaging
Simply excellent. Box inception. Outer box, inner slip cover box with handle protected by plastic, main box with plastic moulded to the shape of the scales. The scales themselves are wrapped in plastic to prevent any delivery scratches.
The scales
Wow. High quality finish. Available in both black and white. I chose the black scales to compliment my bathroom decor better. A possible disadvantage is that the black scales reflect like a mirror. Any dust or dirt that lands on the scales is very visible.
The setup process
Easy. Grab your smartphone. You are instructed to navigate to 'go.withings.com', pair your phone via bluetooth, wait while your wifi settings are transferred to the scales, and you're 'ready' to go.
Using the scales
The app is simply excellent. It is called "Nokia Health Mate".
When opened for the first time, you fill out your details, including height, metric/imperial measurement preferences and your location. Guest accounts can also be configured (kids or users without smartphones). You can invite more permanent users to the scales (for those people living with you with access to their own smartphones). The scales can differentiate several users based on weight and body composition. Unlike with my old Tanita scales, I no longer have to tap 1, 2, 3 or 4 buttons prior to weigh-in. I simply step onto the scales, and they know it's me. To turn the scales on, you simply step onto them.
4 individual sensors measure your weight. The scales will display directional arrows to guide you if your body weight is too far off centre. The aluminium bottom case design means the scales can be used on carpet or other soft floor coverings.
Here is the usual weigh-in process:
step on the scales (they will identify the user based on weight and body composition)
your weight will be measured (usually very quickly)
several more screens will appear, based on your screen customisation preferences (weight trend, fat mass, body water, weather, heart rate, pulse wave velocity, bone mass, muscle mass, bmi) – and as I subsequently found out, there is a little easter egg that will show on your birthday! 🙂
get off the scales. The scales will sync all of your measurements with your cloud-based Nokia health mate account
Then, for further analysis, you can open your health mate app at any time.
When opened after the initial configuration is complete, the app defaults to the 'timeline' screen, showing you your most recent measurements.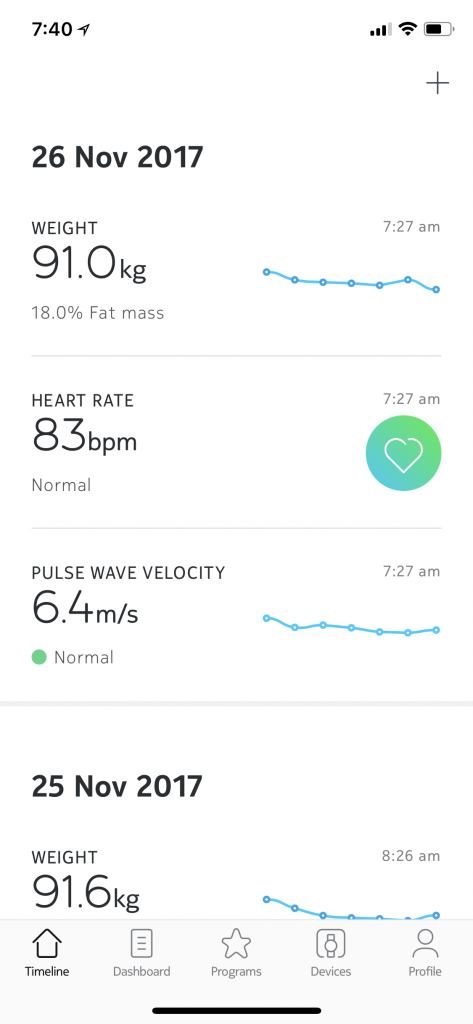 Clicking on any of the measurements in the 'timeline' screen will show your specific measurement in more detail. The 'weight' measurement is displayed on a configurable/drag-able timeline. This is an excellent way to track your weight relative to physical activity and the food you're eating.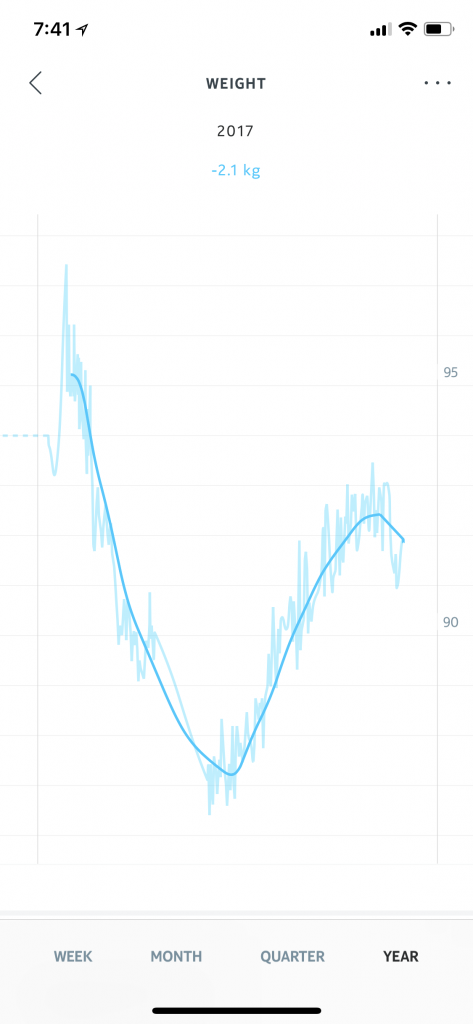 The timeline shows very distinctive weight points when shortened. You can perform as many weigh-ins throughout the day as you desire. Brilliant.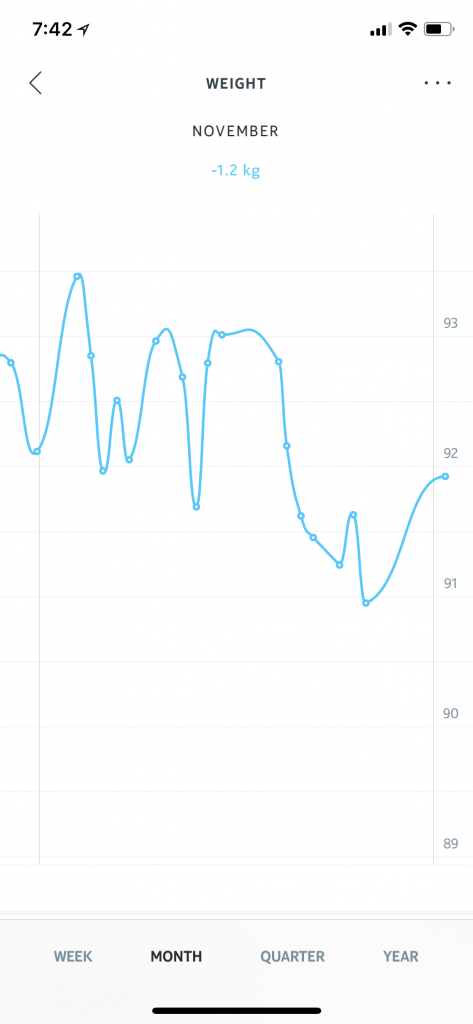 Screen customisation can be set for the scales for your profile. The basic 'weight' measurement is a mandatory display, however, all other measurements are optional.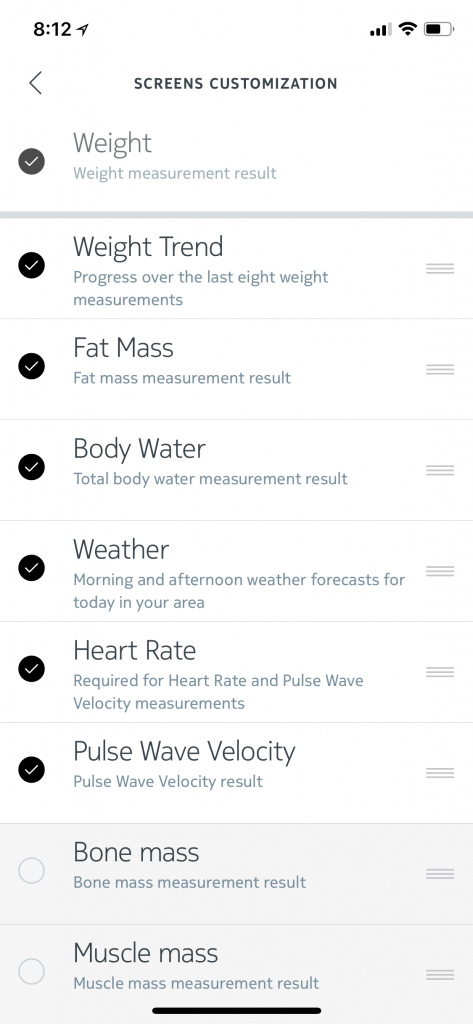 The 'pulse wave velocity' measurement differentiates the body cardio scales from the rest of the Nokia scale models, and all other scales on the market at this price range. The pulse wave velocity is measured by sending electrical impulses through the body (similar to body fat and water composition measurements) and is a measure of arterial stiffness.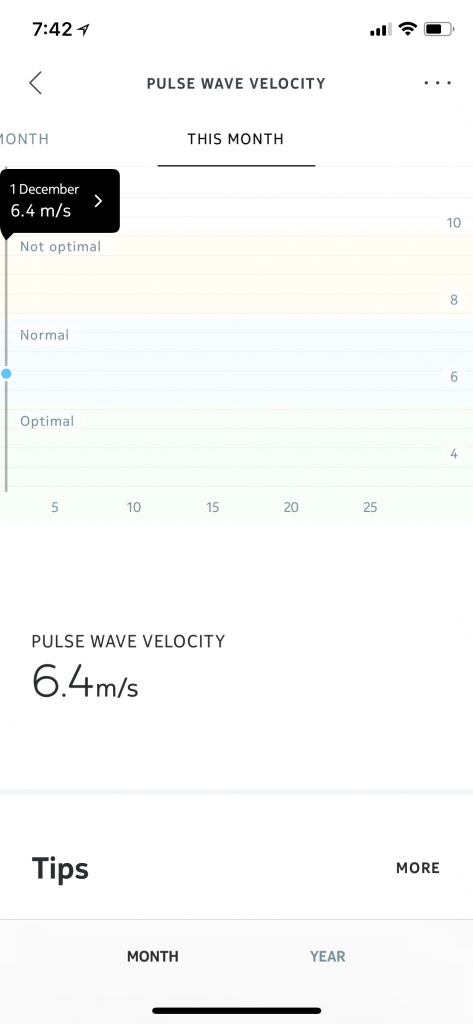 I have had the scales for almost 11 months, and have charged them today (2nd Dec 2017), as they got down to 5% battery. That is after 245 weight measurements. The battery life is excellent. Charging is performed via the included micro-USB cable.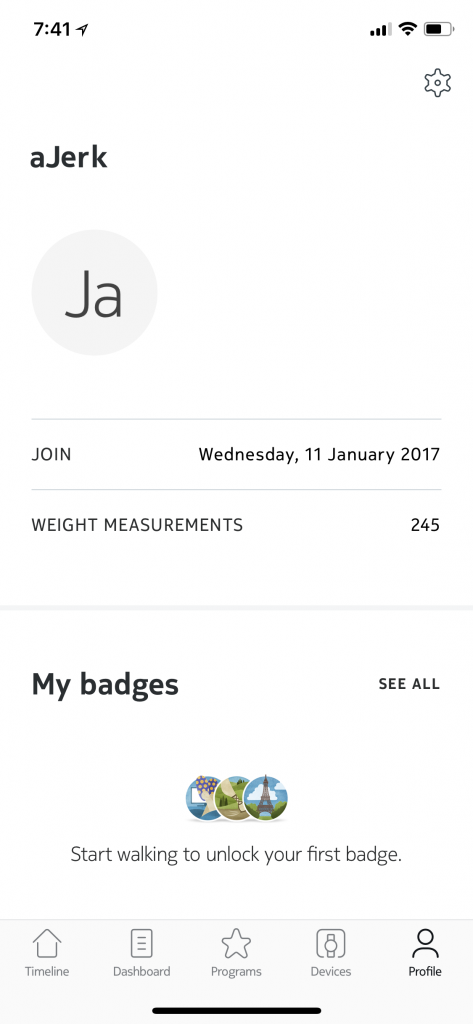 The health mate app shows you the scale battery status, firmware info, and allows for full customisation for all users.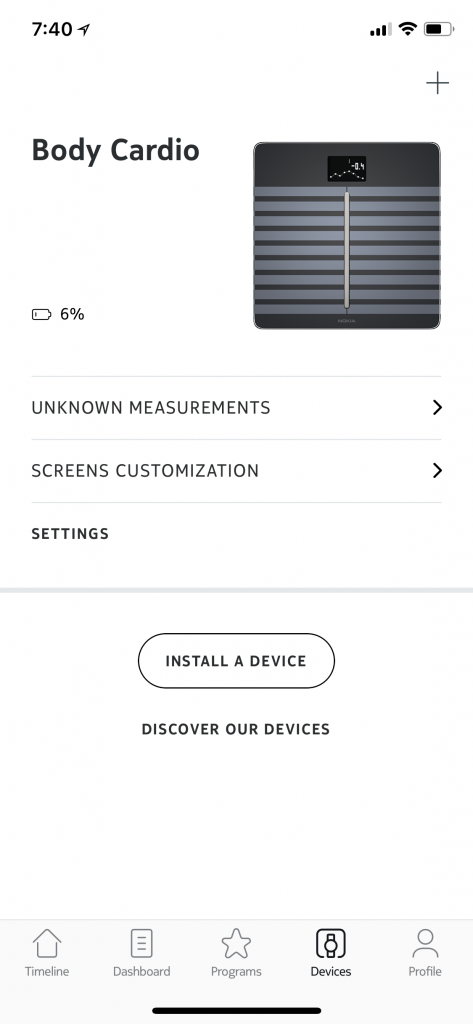 Conclusion
The Withings/Nokia Body Cardio scales are simply awesome.
Everything from the high quality finish, to the fully customisable multi-user support. The long battery life, to the superb Android/iOS app support.
The only negative point that has been clear over the past 11 months of usage is: the high gloss black finish shows dirt/dust very clearly. They need a regular wipe with glass cleaner to look superb.
My Tanita non-smart scales are long gone. Sold on eBay. I don't miss them. Not one bit. The Withings/Nokia body cardio scales are just on a different level altogether.