Monero has just hard forked to maintain ASIC resistance. I checked on my mining progress dashboard (supportxmr.com) and sure enough, my hash rate was 0 H/s.
XMR-Stak on my mining rig was showing the following error messages: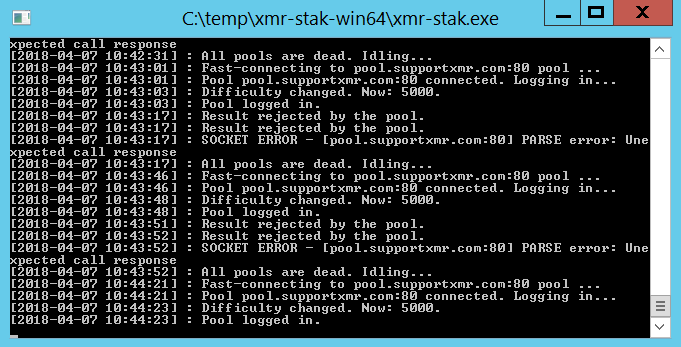 All pools are dead. Idling . . .
SOCKET ERROR – PARSE ERROR: Unexpected call response
This error is easily fixed by downloading the latest XMR-Stak software from github (https://github.com/fireice-uk/xmr-stak/releases).
The new version of XMR-Stak 2.4.2 supports cryptonightV7, an ASIC resistant algorithm which the newly hard forked Monero cryptocurrency uses.
I've missed out on a few days worth of mining, but judging by this screenshot of the supportxmr mining pool, so have many others!

Just last week the amount of "Miners Connected" was around 10,000. So based on today's statistics, about 6000 have either quit mining, or have simply not realised that Monero has hard forked, causing their mining rigs to stop hashing.
Update your mining software! Happy mining!