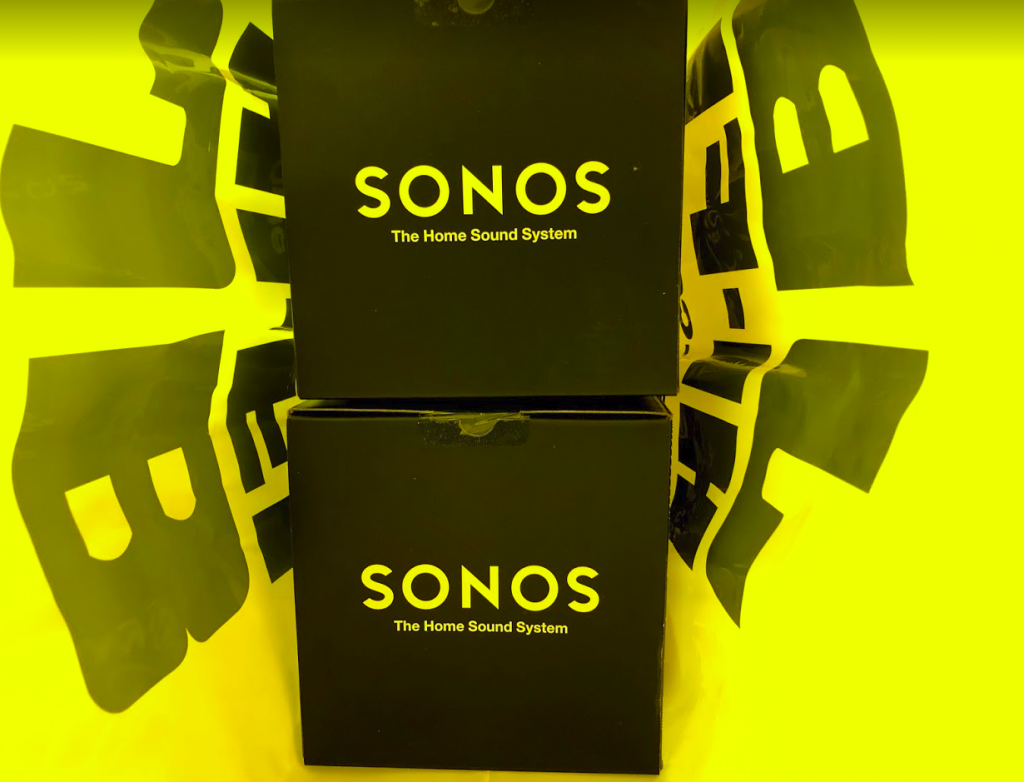 Let's just cut to the chase: The Sonos Playbar is awesome. When the Playbar is installed and accedes audio duties from your standard TV speakers, the jump in audio quality is measurably better. The clarity of high and mid tones rockets through the roof. Although lacking low tones (it's not a sub-woofer after all) it manages to perform a commendable job of bass reproduction.
I've been a happy Sonos Playbar customer for over 12 months. The playbar is wall mounted and connected to my Samsung LCD TV via optical cable. All local TV-based speaker output is disabled. All of the TV audio is piped through the Playbar. My TV is connected to a Nvidia Shield TV, an Apple 4k TV, and a PS4. I watch a combination of Google Play Movies, YouTube and Netflix, and listen mainly to streamed Google Play Music (through the Nvidia Shield TV, or through the iOS app).
I have been considering adding Sonos Play 1 (and more recently Sonos One) speakers as surrounds for many months.
One of the selling points on the Sonos website for Sonos One speakers suggests to "Use a pair of Sonos Ones and Playbar or Playbase to create surround sound for all your movies, games and TV shows. And stream music too."
A recent sale in Australia was too tempting. I picked up the Sonos One Bundle (2 Sonos One speakers for $499AUD).
Sonos One build/packaging quality
First impressions; the unbelievably heavy weight of each Sonos One speaker (1.85kg or 4.08lbs per speaker). I wasn't expecting that! Exceptional packaging. Lots of styrofoam protecting the speakers, and bagged and tied cable components (power and ethernet).
The build quality is on-point. The plastic body is thick and robust, and the buttons press firmly with no lateral movement.
Sonos One setup process
The setup process was also very easy and intuitive (as expected with the Sonos app and products).
I had to re-run the Sonos Trueplay (speaker room optimization) process. The process took 5 mins to complete, and was stress free (hold an iPad in the seated watching-TV-position, and then move around the room for a couple of minutes while keeping quiet, letting the iPad pickup the test tones).
Sonos Playbar and Sonos One audio quality
So how does a non-audiophile describe the jump in audio quality? After all, you're wondering, is the Playbar worth it? Is it worth adding Sonos One surrounds?
Let me introduce my super basic, non-quantifiable and very subjective iblogit audio scale:
The scale ranges from 0 (terrible audio) to 100 (audio nirvana).
It is worth trying to assess each component separately:
Standard TV audio: 30. Tinny audio, without any strong points (tinny highs, poor mid and no low reproduction).
Sonos Playbar handling all audio: 70. Crisp highs, full-bodied mids and respectable lows).
Sonos Playbar with (2) Sonos One surrounds: 80. Same crisp highs, full-bodied mids and respectable lows, with an expanded sound stage and better L and R separation.
You may be wondering . . .  why only 80? What about the remaining 20 points that would score my Sonos system at audio nirvana levels?
Well, I think the difference is a missing Sonos Sub, and perhaps the last 5-10% that most audiophiles chase with power conditioning, gold plated cables, neodymium magnet speakers etc. Ultimately, my thought is that the Sonos system provides a very high level of audio performance (80-90%), at a reasonable price, with FANTASTIC app and zone control.
Sonos One conclusion
Would I buy the Sonos One surround speakers again? Yes. Has adding the Sonos One surrounds made a huge difference to the audio? Not really.
My Google Play Music streamed songs have a clearer L and R sound stage. The movies that I watch with a 5.1 sound track are reproduced more clearly (the 'surround' noises/sounds are clear). However, watching YouTube or TV, doesn't really drive the surrounds . . . at all.
The Playbar was a massive jump in audio quality for me ($999AUD). The 2 x Sonos One speakers are a marginal jump for a further $499AUD.
Worth it? In my opinion, yes. But not by a long margin.
What are your thoughts?